Botox Treatment Service & Recipient Reviews

Botox in Vienna, Virginia has long established itself as a staple in the beauty regimens of the stars.
That is why many are curious to receive the answers to the questions, "How much is Botox in Vienna, Virginia?"
The Feisee Institute offers Botox as an accessible treatment for all.
Botox is an injectable that is directed into the muscles of your face in order to remove the appearance of fine lines and wrinkles. 
How Long Does Botox Last?
Botox is not permanent. 
However, you can expect your results to last anywhere between four-to-six months. You may come cross some of our botox treatment reviews to your better concerns.
Where Can Botox Be Applied?
Botox is an excellent product to treat unwanted wrinkles and even muscle-based issues in a variety of areas including the following:
Glabellar lines
Forehead lines
Crow's feet
Eyebrow lift
Underneath the eyes
Cheeks
Fine lip lines
Neck jowls
Neck bands
TMJ relief
Facial slimming
Excessive sweating
Migraine relief
How Much Is Botox Service in Vienna, Virginia
The cost of your Botox treatment depends on a variety of factors including treatment area, and units injected. 
You should always look for a reputable injector who charges their cost per unit and not per area. Before experiencing it you may check our old client's about botox treatment review to have a clearer idea of botox, its benefits, risk, and everything in between.
How Many Units Do I Need?
The amount of units that each patient requires depends on a multitude of factors including the following:
Patient age
Patient gender
Treatment area
Facial muscle strength
Deepness of wrinkle
The most popular procedures require anywhere between six-to-30 units depending on the area, with treatments such as hyperhidrosis requiring around 50 units per side. 
How Much is Botox Service in Virginia at The Feisee Institute?
The Feisee Institute is proud to offer Botox to our patients. 
We would love to meet with you for a consultation to discuss your areas of concern, treatment options, and pricing information and you potentially can experience the best botox service in Virginia.
To schedule your consultation, call us today at (703) 457-1040.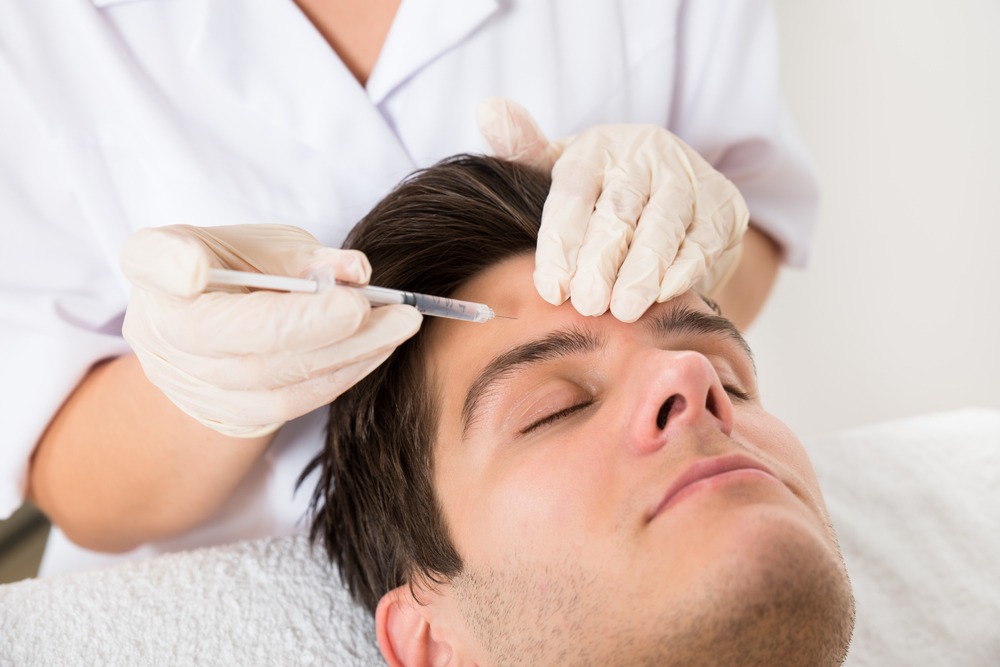 Botox for Men in Vienna, VA
It's not really a secret that men want to age gracefully like women do. And now, Botox for men isn't really a secret anymore, either!
More guys are getting cosmetic treatments now than ever, as they should. No one wants to deal with wrinkles and sagging skin.
Why Choose Botox for Men?
Botox injections can help reduce the appearance of lines and wrinkles on the face, as well as prevent them before they even start.
This treatment can eliminate the signs of crow's feet, forehead lines, and frown lines without leaving any evidence behind. Your bros will never know.
What Do Botox for Men Injections Feel Like?
Worried about pain from the needle? Don't be. The needle used is so small and feels like a pin prick. 
Botox is designed with your comfort in mind, and most men find it to be a comfortable experience. You may feel a slight pinching sensation as the needle is inserted.
When Will I See Botox for Men Results?
In most cases, results show after a few days and continue to improve over the following week to two weeks after injections.
The results of the Botox therapy are long lasting and will fade after three to four months. Simply repeat treatments to maintain your results.
Am I a Good Candidate for Botox for Men?
You're likely eligible for Botox injections if you are an adult male over 21 who wants to prevent and / or treat lines and wrinkles on your face to maintain a more youthful look.
Where Can I Get the Best / Top / Most Sensational Botox for Men in Vienna?
For the amazing facial smoothening effects of Botox for men, contact us today at 703-457-1040.
There is no downtime afterward, and you have nothing to worry about other than losing your worry lines!
Botox Treatment Service Reviews by Recipients
Samia Nasher Wali's Treatment Review
I had my treatment yesterday which is December 11, I am very satisfied with their well coming and the nurses were very friendly as well as the doctor so far I have a good results the price is very good I will recommend to everyone thank you.
Skye R's Botox Treatment Review
Really good experiences, no complaints. I fainted during the lip filler procedure but they handled it like pros, and in a really relaxing way!!
Nichole Nikki's Treatment
Very professional doctor and staff. They check your temp and make sure you are safe. They explain the process and the fees. Will be back with my friends soon to get our facial done. Thank you for amazing experience.

I think Dr. Feisee and her staff are great! I think Sarah is awesome. I have received Botox injections several times from Dr. Feisee and I have had no issues. Not sure why there are so many bad reviews. If you aren't happy, give them the opportunity to fix it, they will. I'm incredibly pleased with Dr. Feisee and staff and have never had a bad experience. I haven't written many reviews in my life but I think many of the negative reviews are wrong and I wanted to make that known. Go see her, she's a great doctor.
Angela K.